A twisted prankster is facing a police probe after he dressed up as the Manchester Arena bomber from Ariana Grande's concert for Halloween.
David Wootton, 40, rocked an Arabic-style headdress and T-shirt with 'I love you Ariana Grande' handwritten across it in marker pen. He also posted an image of a black rucksack with the words 'Boom' and 'TNT' scrawled across it on Facebook.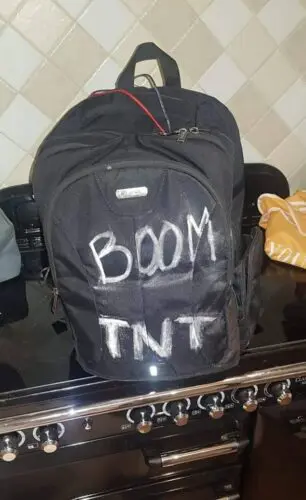 Twenty-two people were murdered, some of them children and hundreds injured when suicide bomber Salman Abedi detonated his device in the foyer of Manchester Arena at the end of an Ariana Grande concert on May 22, 2017.
Wootton's Facebook caption read: 'Bet I get kicked out of the party.'
After people on Facebook urged him to take down the post the prankster added: 'Only went and won the best costume.'
But ex-friend of Wootton said they contacted North Yorkshire Police to report a hate crime.
One person told The Sun: 'It makes me cry to think that someone would think this is remotely funny.'
Last night Wootton told the newspaper: 'It's not offensive. It was an adult fancy dress.'