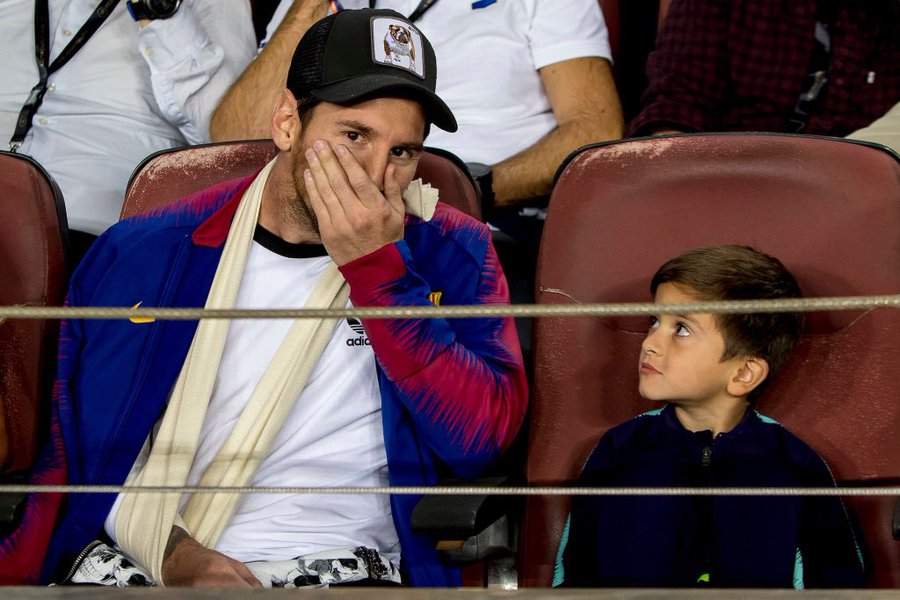 Barcelona eased to a 2-0 victory over Inter Milan in their Champions League encounter at the Camp Nou on Wednesday, October 24.
Goals from Rafinha and Jordi Alba were all the Catalans needed to claim their third victory in Europe this term.
A game that had Lionel Messi sitting at the stands after breaking his arm in his side's 4-2 win over Sevilla to reclaim top spot in the La Liga over the weekend.
SunSport however report that the Argentina forward said at the end of the game that: "How nice to live and enjoy it with you. "
He continued: "Congratulations to the group for this great victory. "
Both Messi and Thiago sat keenly at the stands watching the Blaugrana dismantle their visitors to maintain their leadership on Group B table.
Luis Suarez's son Benjamin was also with them as the trio focused keenly in the tough fixture in Spain yesterday night.
He will also be out of the first leg of the El Clasico against Real Madrid at the Camp Nou this weekend.
Meanwhile, the first goal of the game was Rafinha first Barcelona goal since February 2017 after he spent the second half of last season on loan at Inter.